Chatty won the 2nd place in NUS iCreate 2013
Happy to announce my project Chatty has won the 2nd place in NUS iCreate Mobility Challenge 2013.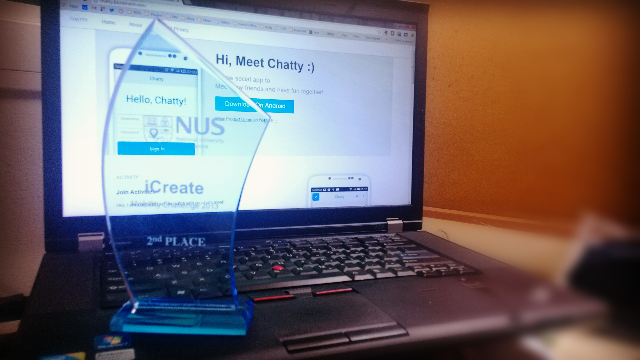 What I had achieved in the twelve++ days:
212 commits / 44,145 ++ / 20,061 --
55 commits on June 29th, and 56 commits on 30th (highest)
Besides coding: logo design, presentation, website and demo video
6 releases from v0.9.9 to v1.2.4. The first program that I have labelled v1.x.x! I tagged the version v1.2.1 with v0.2.1 wrongly to realize this.
Bravo!
Gonna end with the demo video :)
Chatty - Meet new friends and have fun together! Download it on Google Play.